New Sketch by Guy de Rougemont
We are continuously on the look-out for landscape art that resonates with both clients and projects. It is for this reason Christian Duvernois sought acclaimed French artist, Guy de Rougemont, for an upcoming project.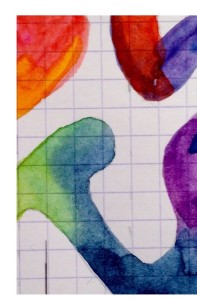 At this point, we can't disclose too many details. However, we can share this detail of the sketch (pictured right) – we've seen it in its entirety, and we are absolutely thrilled to be able to work with him on this.
For those of you unfamiliar with Guy de Rougemont, he is a member of the Académie des Beaux Arts and a prolific painter, sculptor, and furniture designer. Born in Paris in 1935, his work has never been restricted to just one medium – ranging from canvas to murals, to totems, objects, and rugs, as well as large sculptures. Often interpreted as abstract art, Rougemont's pieces both penetrate and resonate in surroundings thanks to his playful use of colorful, and mutable yet fragmented forms.
Among the many well-known collectors of Rougemont was Henri Samuel, an established French decorator known for the classic interiors he created for the Rothschilds and Vanderbilts. It was as a result of pieces, such as Rougemont's which blends sculpture and furniture, that Samuel began to integrate modernism into his interiors.