Simbiótica Living Roof's Native Plant Palette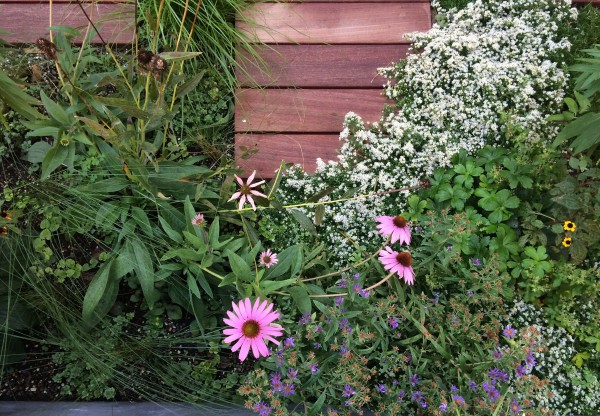 As the green roof movement spreads across cities throughout the country, including New York City, Philadelphia, and San Francisco, urbanites are increasingly able to enjoy natural flora atop built structures in surroundings that would otherwise be devoid of plant life. Pre-grown Sedum tiles are predominantly used for their proven performance and functionality in constrained, artificial urban conditions, but their effect is generally limited to low-height, relatively monotonous, non-native compositions. With regard to biodiversity, these traditional Sedum tile roofs are also of relatively limited value to the wide spectrum of volant wildlife passing overhead, such as native birds, bees, and butterflies, who have minimal to no evolutionary ties to such vegetated mats.
For our newest completed project, Simbiótica Living Roof, we took serious stock of these aforementioned opportunities and challenges, and set out to provide co-op residents with a more naturalistic, multi-layered and bucolic effect than achieved in most conventional green roofs, while keeping to a productive native plant palette which invites birds and pollinators to utilize the green roof as a reconstituted form of patch habitat across their ranges and pathways. The result is a verdant, co-habitated urban oasis.
Simbiótica Living Roof was built atop a single-story parking garage rooftop surrounded by brick buildings that create shade conditions ranging from full sun to part shade. A custom-planted mosaic of 27 perennial (see above images), shallow-rooted American natives and "nativars" were chosen for the intensive green roof system, all of which have successfully taken root. Designed to ensure year-round seasonal interest without inputs of chemical pesticides or temporary annuals, the tapestry includes spring-bloomers such as Phlox, Wild Pink, and Eastern Stonecrop; summer species such as Coneflower, Milkweed, and the native Impatiens; fall interest of American Dittany, Pink Muhly Grass, and native Asters; and evergreens such as Prostrate Blue Violet. A rich, diverse groundcover layer was especially essential to the garden's design, serving as textured drifts as users step across boardwalk elements, and more practically as an effective weed abatement strategy.
This fully native program has extended further into the peripheral container plantings, with small trees such as the Serviceberry, with its lacy white blossoms, and Common Witch-Hazel, with it's luminous winter blooms, offering safe spaces for migratory birds passing through. A few other notable endemics planted in the project include bird-attractant species such as the Pagoda Dogwood and native Viburnums, whose fall berries are of high nutritional fat content for migratory birds in the fall; Spicebush which is particularly important as one of only two possible food sources for caterpillars of the beautiful native Spicebush Swallowtail Butterfly; and nectar-rich species such as Trumpet Vine, Coral Honeysuckle, and Summersweet which offer irresistible sources of nourishment for bees, butterflies, and hummingbirds alike.