Native Plantings for Seasonal Charm & Wetland Habitat Revegetation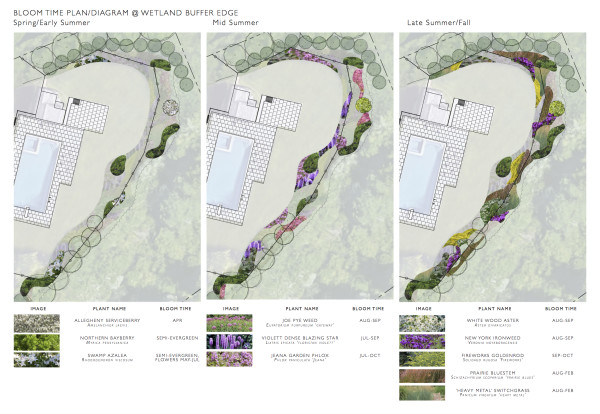 For a country home in the Hamptons adjacent to a designated wetland buffer, CDL/S conceived of a native perennial garden that would pass the revegetation requirements of the municipal Conservation Board while offering the homeowner a customized plant color palette with a diverse range of textures, heights and sequential blooms throughout the growing season. Designed as a naturalistic and interwoven composition, evocative of the organic course of flowing water through a riverine system, an all-native selection of six flowering herbs, two grasses, and three shrubs undulate in and out of a new rustic cedar fence to form a layered transition from the country garden out to wild vista. To outline the plan visually and temporally, a sequential bloom diagram was created that chronologically maps out the morphing color drifts from spring through fall.
Thick semi-evergreen shrubs such as the Northern Bayberry serve as a base and a backdrop for the surrounding colors as they traverse the fence and skirt the new pergola and pool area. From summer into mid fall, vibrant flowering plants like Joe Pye Weed, Violett Dense Blazing Star, Jeana Garden Phlox and White Wood Aster bloom in strategic placements along the periphery, to help frame and borrow the wetland landscape beyond.