Case Study: Tiny Terraces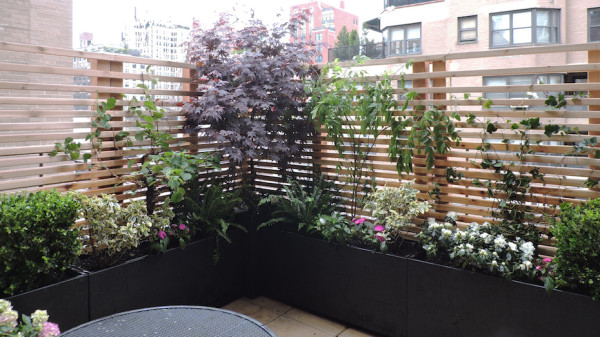 The design of relaxing, functional, and comfortable outdoor spaces within tight urban confines can be an arduous task. Clients oftentimes wish to achieve a perfect balance of privacy screening from their neighbors next door or across the street, while still preserving enough open views and sunlight to sustain plant growth and avoid the feeling of claustrophobia.
The successful design of tiny terraces requires a fine-combed investigation of client priorities, solar exposure, and surrounding site conditions. To maximize spatial efficiency, these tiny terrace designs usually include elements which can provide dual-usage or can be tucked away in a hidden compartment. To further elucidate these points, below you will find a series of CDL/S tiny terrace case studies that we hope can serve as a source of inspiration for those looking to get the most out of their Lilliputian urban oases.
Tiny Terrace 1
Clinging to the side of a West SoHo tower, this narrow pocket terrace has a spectacular view of Manhattan – the obvious focal feature of the project. To accommodate the breathtaking views while creating a cozy nook and sense of sequence, an Ipe wood corner banquette bench was proposed for the furthermost corner to face the skyline vista, with a retractable Ipe table was installed into privacy cladding along the railing, consequently transforming this once desolate space into a social dining area. Three ascending wall planters create an opportunity for a vertical herb garden, while simultaneously creating some visual separation from the entry door and framing out the view with green. To maximize functionality, the bench was also on hinges to function as a compact storage facility.
Tiny Terrace 2
This elevated corner terrace is situated on the ninth floor, where it is prone to powerful winds. To both help protect against the elements and create a sense of privacy, a six-foot tall cedar fence was installed around the terrace's perimeter. As a way to create privacy when seated, yet allow for natural sunlight filtration, the spacing of this slat fence was constructed across a gradient; the lower part of the fence is more tightly spaced together and as the fence increases in height, so too does the opening height. Plants chosen to create seasonal interest, such as Japanese maple, vines, and azaleas, were included in the plant palette so as to cultivate an oasis-like atmosphere.
Tiny Terrace 3
With a balcony terrace adjoining an open floor apartment with a contemporary style, this project attempted to blur the boundary between inside and outside, to create a natural and seamless extension of the client's interior space. The terrace is designed to streamline circulation and utilize mobile outdoor-indoor furniture and lighting elements, with a narrow hardwood bar with white metal edging that wraps down and around the terrace as contiguous cladding.This configuration and movable furniture not only allows for flexible use and mobility, but also aids in breaking the perceptual barrier between interior and exterior by strategically placing some of the portable lighting inside. Mixed grass and sedum plantings line narrow aluminum planter boxes, and contemporary furnishings such as Maya Lin's adult stool, LED globe lamps, flameless candles, and a pair of white Bertoia chairs.
Tiny Terrace 4
This project is comprised of two small terraces on either side of an apartment overlooking Central Park. The sunny terrace contains fragrant plants so that one can literally wake up and smell the flowers. Plants like Summersweet, Carolina Jasmine, and Syringa were ideal choices for such a space. On the second terrace, artificial turf was proposed; at first glance, it seemingly raises the park up from below and borrows the view of Central Park's tree canopy beyond. Due to lesser available light, our team chose a selection of shade-tolerant greenery to create a peaceful, verdant space. Serenity and tactility were the focal point of the project, thus a removable hammock was proposed for lounging, and lush Dutchman's Pipe Vines were chosen to grow up the violet-painted ornamental gateway.